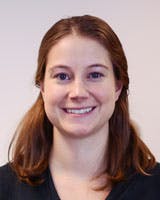 Sarah Bosserman, PT, DPT, CSCS
Dr. Sarah Bosserman, PT, DPT, CSCS is a current member of the Virginia Orthopedic Manual Physical Therapy Institute orthopedic residency class of 2017-2018. She received her Doctorate of Physical Therapy from Virginia Commonwealth University in 2015. Dr. Bosserman completed her undergraduate career at Virginia Tech, when she graduated Summa Cum Lade with a Bachelor of Science in Human Nutrition, Foods and Exercise. She is also a member of the American Physical Therapy Association (APTA), Virginia Physical Therapy Association (VPTA), and APTA Orthopedic Section. Her interests include treatment and prevention of orthopedic injuries, manual therapy, and biomechanical running analysis.
While at VCU, Sarah was a volunteer for the REACH for Ghana team that provides medical care and education to villages throughout Ghana, and continues to feel passionately about providing quality healthcare for all. In her free time, Sarah enjoys running with her dog, playing golf, and spending time with her husband.